With the intention of inspiring others to change their shopping habits, Capsule magazine is a positive resource for young women, advertising how to build a capsule wardrobe,
  up-cycle clothes and ways of shopping sustainably. 
Through the combination of fashion photography, graphic design and illustration,
I have created a resource for young women presenting ways in which we can all work towards change together in the fashion industry. I did this with the aim of making it an optimistic resource, showing that making the change from fast fashion to slow fashion can be a positive and exciting thing.
By doing  an in-depth investigation into the fast fashion industry and what sells the clothes, I focused on the role that influencers on social media play in promoting it. By photographing in a similar aesthetic to influencers and creating a neutral colour palette that reflects influencers Instagram feeds and building an online platform, the projects intention is to catch the attention of young adults and inspire them reconsider their approach to fashion.  
​​​​​​​
The magazine consists of three sections – Re-use, Reduce and Recycle. Each section has an explanation and presents a series of fashion photographs, facts that highlight the realities of the industry and positive advice, in hope to inspire change.
I avoided telling the reader what to do, and instead wrote the text as if it was an online blog post-sharing the possibilities and positives of reusing, reducing and recycling clothes
I created a community of young women who are collaboratively working towards change. By creating welcoming and visually appealing online platforms, the sense of community is enhanced through the Instagram page and Capsule online blog. Both platforms work as a safe space for the community to discuss, share advice and collaboratively work towards change. 
By creating an Instagram page, I was able to share my own fashion journey and how I am also human and make mistakes, in the hope that this would help the reader trust me. The 

Instagram

 made for Capsule allowed me to reach my target audience of young women, typically between the ages of 16-24.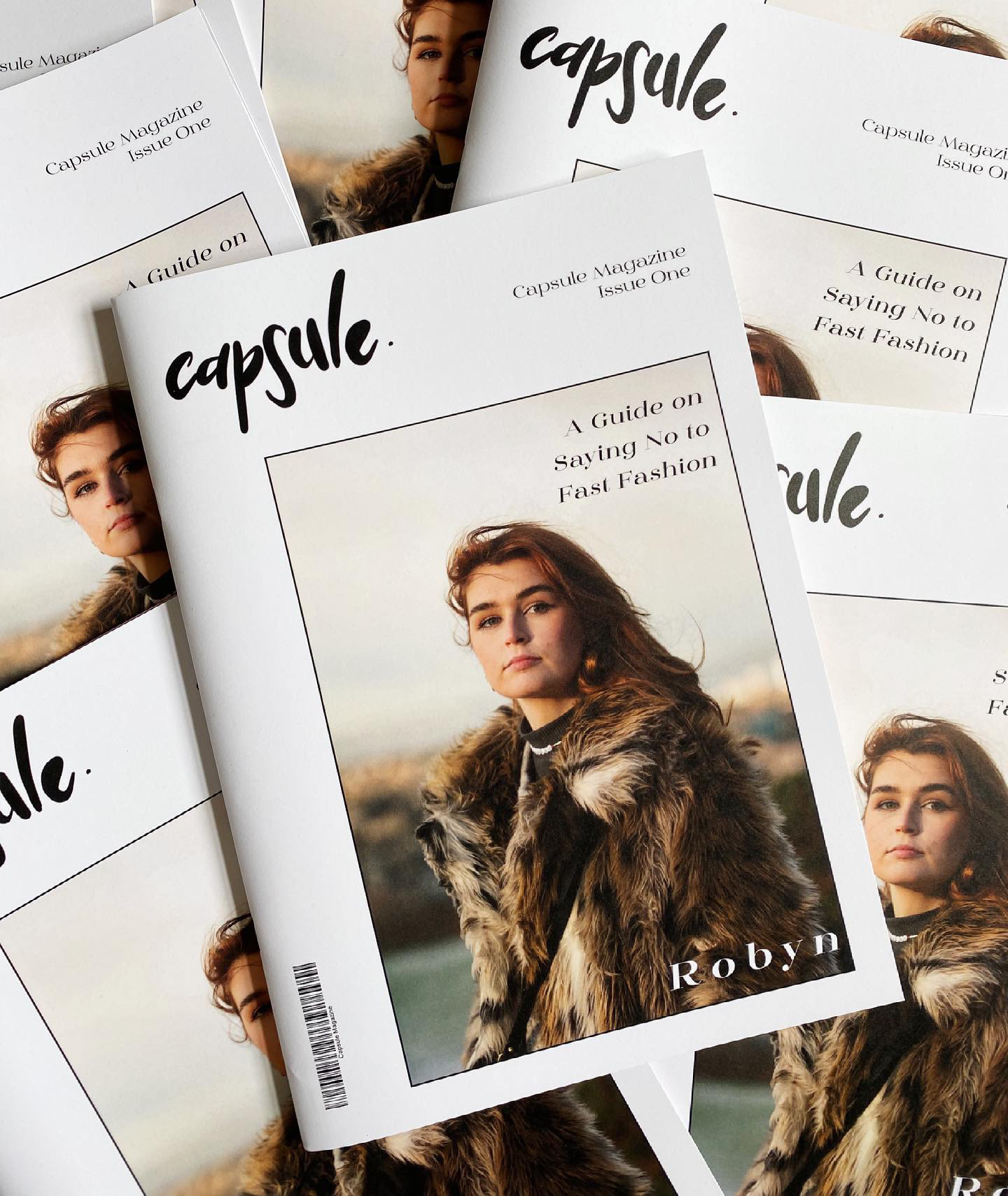 This project has been featured in several online showcases. Exhibitions such as: The John Bryne Award entries showcase, the Napier Degree Show, Source Magazine 2021 graduate online showcase, Photograd Degree Show and the Climate Justice and Community Action Shado Mag event. 
I was also awarded the Best in Show for the Napier Degree Show, by Malcolm Dickson, with this project and the magazine was shortlisted for a Creative Conscience Award 2021.
With the nature of the project and  to distribute the magazine in an environmentally friendly way, the physical magazine is printed on natural recycled paper.
Do you want to join the community? With Capsule magazine, collaboratively, we are saying No to fast fashion.
You can read the magazine for free via the link below  ⇩⇩